The Compact Elite X3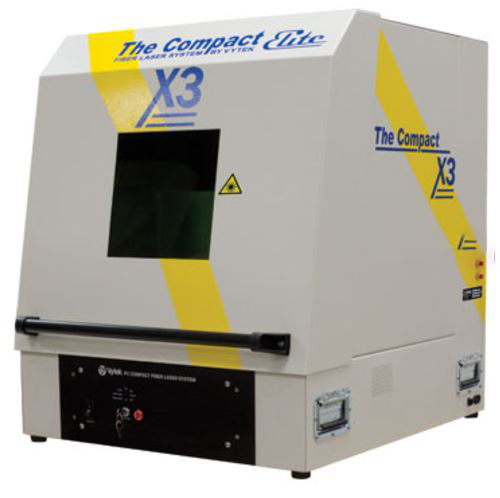 The Compact Elite X3 really is a completely different approach to a galvo system and will change how you do laser marking. The main advantage and feature of the X3 is the working field size and the focused spot size. The X3 has an adjustable marking field of up to 24" x 24" and is capable without a lens change to a spot size as small as 13 um. This means you can mark parts without relocating the part or the galvo up to the field size and with a spot size that is 40% smaller than a standard 2 axis galvo system with an F160 optic.
iberCab Standard Features
The FiberCab series possess a reliability that is unmatched by any other kind of solid state or gas laser system. Offering a wide operating wavelength, high stability and ultra-long diode lifetime complete an impressive list of advantages. The FiberCab series utilizes state of the art solid state Ytterbium fiber laser systems of near infrared spectral range (1060-1080nm) and Green wavelengths (532nm). The FiberCab series offers laser power options from 10 to 200 watts and with a unique combination of high peak power, ideal beam quality, fiber delivery and the highest wall-plug efficiency.
The FiberCab Series Equipment is safe, compact, and service-free, designed to meet individual marking needs with the ability to mark a wide variety of materials including Direct Part Marking (DPM) of alphanumeric, logos, serial numbers, part numbers, lot and date codes, schematics, graphics, deep engraving and more. It can be delivered as a stand-alone system that can be integrated into any production line or a full turnkey workstation. The Fibercab series fiber laser system offers a host of standard features and can easily be equiped with many advanced optional assesories.

Fibercab Series Includes
• Programmable Z-axis vertical capability to accommodate a variety of material sizes and lenses.
• Fully enclosed work area
• Oversized opening for easy access
• Exhaust outlet and option to add integrated fume extraction
• Interior cabinet light
• Consumable-free direct part marking on virtually any material
• Heavy duty laser safety enclosure with viewing window for visualization of lasing process and visual alignment.
• Standard 160 F-Theta lens and others available to increase marking field.
• Maintenance free operation -50,000 -100,000 MTBF (Mean Time Before Failure)
• Small spot size for extremely high quality marks
• Low voltage power source (110/220 VAC)
• State-of-the-art air-cooled fiber laser
• Sate of the art Galvo scan heads
• Remote Diagnostics
• Flexible fiber cable beam delivery system
• Excellent beam quality (M2 < 1.2)
• 2 year warranty on Laser module
• Diode pointer for positioning of marking image on the part
• User friendly laser software
Slide Drawer Work Surface
Includes a taped fixture surface
Programmable Motorized Z Focus
With 8" to 10" of stroke depending on model
Laser Power Upgrade
20 watt short pulse

30 watt

50 watt

100 watt
F-Theta Scan Lens
F-100

F-160

F-254

F-330

F-420
Scan Head Upgrade 14 mm
Increase to Aperture for smaller spot size requirements
Scan Head Upgrade 25 mm
Increase to Aperture for smaller spot size requirements
Integrated HEPA/Charcoal Filtration System
Eliminates Fumes and Particles air down to 2 micron

Exchanges inside using a combination of HEPA and activated charcoal filtration
Industrial Grade Computer
With 15" Monitor, keyboard and mouse

Preset up with FiberScan C5

Integrated with machine base
3 Jaw Chuck rotary axis with center
4" diameter capacity

Adjustable center
Dial Index table
Can have 2 to 4 fixture zones

Can have auto or manual rotation
Vision System
Part orientation

Part inspection
Foot Switch Start Mark Option
Barcode Reader
Air blow off/Air assist option
Use for deep engraving or dirty marking applications
Dual Diode Focus System
For precise focus adjustment
Laser Safety Kit
Training and Setup at Customer Site