GL Series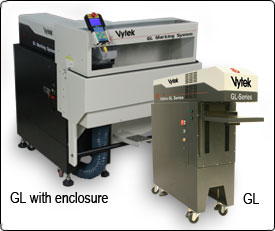 GL Series Overview
The Vytek Laser GL series is a self standing compact and integrated laser system designed as a class 4 device or with an optional enclosure. The GL series is often chosen when a specific marking or small field cutting use is required to fit in a production environment. The GL is also portable system so it can serve as a mobile marking or cutting system through out your production environment. A Vytek representative can assist you to determine if the GL is a good fit for your organization.
The GL series is available in both fiber laser (1070nm) and CO2 (10.6nm) laser configurations, the GL Series offers the power and flexibility to mark metals, plastics, glass, ceramics, textiles, wood, and other materials.
Benefits:
• Galvo-Based Design for High Speed Vector and Raster Marking
• Fiber Laser (1070nm) Version for Metals, Plastics, Ceramics, and Other Hard-Surfaced Materials
• CO2 Laser Version for Anodized Metals, Wood, Textiles, and Other Organic Materials
• Packaged System Architecture Offers Installation Flexibility
• Economical Operation Thanks To Low Power Consumption
• Choose Either a Turnkey Solution, or a System that You Integrate
GL Features
Complete Solution, Mark on Most Materials, Powerful & Easy-To-Use Software
Whether you are marking graphics, text, bar codes, serial numbers, or a combination of these, GL Series laser marking systems do the job. GL Series laser marking systems produce permanent, high contrast, precision marks on:
• Metals including titanium, steel, aluminum, carbide, and anodized metals
• Plastics
• Glass
• Ceramics
• Wood
• Textiles
• Other hard surface materials
• Other Organic Materials
Features
• Programmable Z-axis vertical capability to accommodate a variety of material sizes and lenses.
• Exhaust outlet
• Consumable-free direct part marking on virtually any material
• Choice of fiber (1070nm) and CO2 lasers for marking on most materials
• Standard 160 F-Theta lens others available to increase marking field.
• Small spot size for extremely high quality marks
• Low voltage power source (110/220 VAC)
• State-of-the-art air-cooled and water cooled laser options
• Remote Diagnostics
• Excellent beam quality (M2 < 1.3)
• 2 year warranty on Laser module
• Optional Diode pointer for positioning of marking image on the part
• Optional Industrial PC with side mounted flat panel monitor, keyboard and mouse
• User friendly laser software
• Host of available options
GL Specifications
Laser Type

Fiber 10,20,30 and 50 watt pulsed

CO2 lasers to 120 watts others laser power options available

Ambient temperature

32..95°F

Humidity

10..95%

Air requirements

None with standard configuration

Outside dimensions, mm (in), HxWxL

1000x400x1100 (43"x16"x42"

Power consumption w/o laser*

≤450W

Electrical requirements

100-240 VAC
50/60Hz

Max material size mm (in)

200x200 larger items can protrude in a class 4 configuration
(8"X8")

Available Marking Fields (in)

2.32x2.32, 4.33x4.33, 6.89x6.89, 9.06x9.06, 11.42x11.42

Available Options

Footswitch

x

Barcode Reader

x

Vision

Automated Z

Manual Z operation

Rotary Indexer

x

Opto-22 I/O

Auto-Doors

Light Barriers

x

Fume Extractor

x

CCD Camera

Side Doors
| | | |
| --- | --- | --- |
| Available Lens Sizes | Field size mm(in) | Working focal length mm(in) |
| 100mm@1'064nm | 59x59 (2.32x2.32) | 97 (3.82) |
| 160 mm@1'064nm | 110x110 (4.33x4.33) | 176 (6.93) |
| 254 mm@1'064nm | 175x175 (6.89x6.89) | 296 (11.65) |
| 330 mm@1'064nm | 230x230 (9.06x9.06) | 387 (15.24) |
| 420 mm@1'064nm | 290x290 (11.42x11.42) | 493 (19.41) |
Laser Specifications

Wave- length

Mode of Operation

Spot size (for 160 lens)

Energy per pulse

Cooling by

He-Ne pointer

Power consumption

Fiber 10W

1`064nm

Pulsed

60um/0.0024"

0.5 mJ

Air

Yes

<110W

Fiber 20W

1`064nm

Pulsed

60um/0.0024"

1 mJ

Air

Yes

<220W

Fiber 30W

1`064nm

Pulsed

60um/0.0024"

1 mJ

Air

Yes

<330W

Fiber 50W

1`064nm

Pulsed

60um/0.0024"

1 mJ

Air

Yes

<550W

CO2 35W
CO2 75W
CO2 120W

10.6nm
10.6nm
10.6nm

CW & Pulsed

Air
Air
Water
GL Accessories
• Rotary Indexer 3 Jaw Chuck and Tailstock Center
Fume Extraction Options
• HEPA/Charcoal Filtration System for in door Air Exchange
Table Options
• Quick table slide - slides table in/out with fixture points
• Custom Fixturing
• Rotary Dial table with up to 4 work stations
Optics
F-Theta Optics available with various field sizes:
• F100mm@1'064n
• F160 mm@1'064nm
• F254 mm@1'064nm
• F330 mm@1'064nm
• F100mm@532nm
• F160 mm@532nm
• F254 mm@532nm
Documents: