FC Series OEM Fiber Solutions
Vytek FC series OEM Laser System Overview
FC OEM Series Fiber Laser SystemVytek -- a world leader in laser marking and laser cutting systems -- is pleased to offer a range of OEM fiber laser packages for both the OEM and integrator that allow us to easily customize solutions for any environment.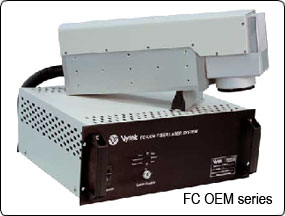 The Vytek FC OEM fiber laser series is a lightweight and self-contained laser solution for integrators and OEMs that require a compact, yet full featured, laser package for direct part marking. The FC series offers unprecedented flexibility for small to extremely large parts that need to be marked in place or as part of a production line.
The FC OEM series offers all of the features and capabilities of our full laser marking systems but with the flexibility of a remote compact head assembly. The laser and the control are housed in a rack mount enclosure and are designed to work in industrial environments. The remote head/galvo assembly are enclosed in a mono-block machined assembly allowing mounting at any angle including inverted or upside down.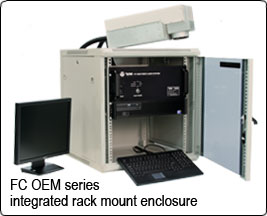 FC OEM Fiber Laser System Integrated Rack MountAll critical wiring to the remote head is strain-relieved and housed in a flexible but rigid wire wrap enclosure that prevents crushing and also keeps dirt and dust from getting to the wiring. The control cabinet offers full access at its rear. The communications, I/O and safety circuits for interlock are also easily accessible.
The FC OEM is offered in several formats and can be configured with an integrated rack mount enclosure that houses the PC, laser, keyboard and mouse to allow the user an easy and quick start format for integration into any production environment. The FC series is offered in both pulsed and CW fiber laser formats from 10 to 200 watts for just about any laser marking requirement.
The FC OEM series can accommodate:
•

Flat surfaces

•

Round surfaces

•

Complex angles

•

Inverted surfaces

•

Vertical surfaces

•

Custom fixturing available
The FC series is the ideal laser marking solution when you need to be ready for a wide range of marking requirements and easy integration into your factory environment.
System Specifications Fiber OEM Series

Laser Type

Fiber 10, 20, 30 and 50 watt pulsed others laser power options available

Ambient temperature

32..95°F

Humidity

10..95%

Air requirements

None with standard configuration

Outside dimensions, mm (in), HxWxL

FC Compact 860x615x615(34"x24"x24") FC Tower 1720x615x615 (64"x24"x24")

Power consumption w/o laser*

≤450W

Electrical requirements

100-240 VAC
50/60Hz

Available Marking Fields

100mm, 160mm, 254mm,330mm, 420mm

Available Options

Footswitch

x

Barcode Reader

x

Vision

Automated Z

x

Rotary Indexer

x

Opto-22 I/O

x

Auto-Doors

Light Barriers

Fume Extractor

x

CCD Camera

x

Side Doors
| | | |
| --- | --- | --- |
| Available Lens Sizes | Field size mm(in) | Working focal length mm(in) |
| 100mm@1064 | 59x59 (2.32x2.32) | 97 (3.82) |
| 160 mm@1064 | 110x110 (4.33x4.33) | 176 (6.93) |
| 254 mm@1'064nm | 175x175 (6.89x6.89) | 296 (11.65) |
| 330 mm@1'064nm | 230x230 (9.06x9.06) | 387 (15.24) |
| 420 mm@1'064nm | 290x290 (11.42x11.42) | 493 (19.41) |
Laser

Specs

Wave- length

Mode of Operation

Spot size (for 160 lens)

Energy per pulse

Cooling by

He-Ne pointer

Power consumption

Fiber 10W

1064nm

Pulsed

60um/0.0024"

0.5 mJ

Air

Yes

<110W

Fiber 20W

1064nm

Pulsed

60um/0.0024"

1 mJ

Air

Yes

<220W

Fiber 30W

1064nm

Pulsed

60um/0.0024"

1 mJ

Air

Yes

<330W

Fiber 50W

1064nm

Pulsed

60um/0.0024"

1 mJ

Air

Yes

<550W

Fiber
Green 5W

532nm

Pulsed

30um/.0012

0.5 mJ

Air

No

<110W

Fiber Green 10W

532nm

Pulsed

30um/.0012

1mJ

Air

No

<220W