CO2Cab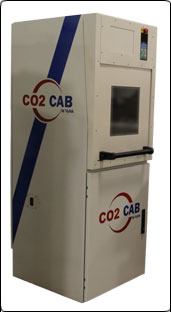 CO2Cab Laser Marking and Cutting System Overview
The CO2Cab Cutting System Series is a fully integrated fully enclosed 10.6nm CO2 galvo system unlike any other system on the market. The CO2Cab is both a marking and cutting solution for many organic and inorganic materials.
The CO2Cab Cutting System utilizes all Metal sealed CO2 laser sources made in the USA and designed for trouble free operation for many thousands of hours. Our CO2Cab Cutting System is a fully enclosed Class I devices that can accommodate lasers from 35 to 400 watts.
The CC Compact is the perfect entry level system for low production requiring laser marking or engraving. The CC Compact is lightweight, affordable and set up is as easy as plugging the system into a 110 VAC outlet.

The CC Tower is a free-standing system that can be equipped with a Rotary indexer for circumferential marking or a rotary dial table for higher throughput of direct part marking.

The CC Tower Plus is our largest standard CO2 laser marking and cutting system. This system has an oversized enclosure and a host of available options and can be set up for just about any task.
CO2Cab Features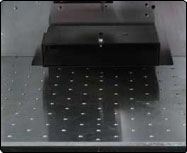 Vytek's CO2Cab system is fully enclosed Class I galvo device that can accommodate a range of CO2 laser sources based on the customers needs for speed and accuracy.
The base CO2Cab system is a steel structure designed specifically to reduce the effects of the surrounding vibrations while offering a thermally stable support structure. The Galvo assembly is mounted on a high precision Z stage which itself is mounted to a precision surface. The support structure for the table is a ground thick Aluminum support ready to accept a customer supplied fixture assembly. The system can also accommodate our optional integrated fume extractor/filter making it a stand alone system requiring only power to be fully functional. With a wide range of working field sizes available the CO2Cab can be set up for just about any application the user has.
• Programmable Z-axis vertical capability to accommodate a variety of material sizes and lenses.
• Oversized opening for easy access
• Exhaust outlet
• Interior cabinet light
• Consumable-free direct part marking on virtually any material
• Heavy duty laser safety enclosure with viewing window for visualization of lasing process and visual alignment.
• Standard 160 F-Theta lens others available to increase marking field.
• Maintenance free operation -15,000 to 25,000 hrs MTBF (Mean Time Before Failure)
• Small spot size for extremely high quality marks
• Low voltage power source (110/220 VAC)
• State-of-the-art air-cooled and water cooled laser options
• Remote Diagnostics
• Excellent beam quality (M2 < 1.3)
• 2 year warranty on Laser module
• Oversized opening for easy access
• Diode pointer for positioning of marking image on the part
• Optional Industrial PC with side mounted flat panel monitor, keyboard and mouse
• User friendly laser software
• Host of available options
CO2CAB Specifications
System Specifications

CO2 Compact and CO2 Tower

Laser Type

CO2 Sealed metal tube lasers from 35 W to 250W other laser power options available upon request

Ambient temperature

32..95°F

Humidity

10..95%

Air requirements

None with standard configuration

Outside dimensions, mm (in), HxWxL

CO2 Compact 860x615x615(34"x24"x24") CO2 Tower 1720x615x615 (64"x24"x24")

Power consumption w/o laser*

≤450W

Electrical requirements

100-240 VAC
50/60Hz

Max material size mm (in)

500x500 (21.02x20.79)

Available Marking Fields (in)

2.32x2.32, 4.33x4.33, 6.89x6.89, 9.06x9.06, 11.42x11.42

Available Options

Footswitch

x

Barcode Reader

x

Vision

Automated Z

x

Rotary Indexer

x

Opto-22 I/O

x

Auto-Doors

Light Barriers

Fume Extractor

x

CCD Camera

x

Side Doors
| | | |
| --- | --- | --- |
| Available Lens Sizes | Field size mm(in) | Working focal length mm(in) |
| 100mm@1'0.6nm | 59x59 (2.32x2.32) | 97 (3.82) |
| 160 mm@10.6nm | 110x110 (4.33x4.33) | 176 (6.93) |
| 254 mm@1'0.6nm | 175x175 (6.89x6.89) | 296 (11.65) |
| 330 mm@10.6nm | 230x230 (9.06x9.06) | 387 (15.24) |
| 420 mm@10.6nm | 290x290 (11.42x11.42) | 493 (19.41) |
Laser Specifications

Wave- length

Mode of Operation

Cooling by

CO2 35W
CO2 75W
CO2 120W
CO2 170W
CO2 250W

10.6nm
10.6nm
10.6nm
10.6nm
10.6nm

CW & Pulsed
CW & Pulsed
CW & Pulsed
CW & Pulsed
CW & Pulsed

Air
Air
Water
Water
Water