AG80L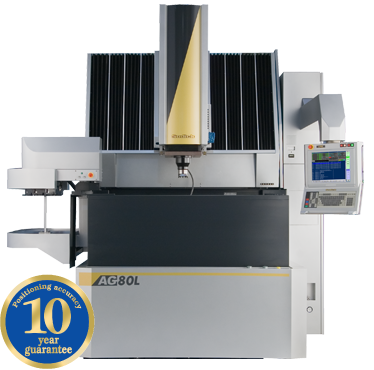 Sinker EDM
The AG80L Sinker EDM features Sodick's Linear Motor Technology. The AG80L is a precision machining solution for large sized aerospace, energy related parts, die/molds that require close tolerances, fine surface finishes and deep rib machining. The AG80L features simplified control mechanisms which provide a direct link between the drive and control. This ensures the fastest possible servo response time possible and optimal spark gaps at all times. The automatic three sided vertically sliding drop tank enables large workpieces to be easily loaded and unloaded.
Features
MEDIA:
Specifications
| | |
| --- | --- |
| X - Axis Travel | 33.46" (850 mm) |
| Y - Axis Travel | 20.47" (520 mm) |
| Z - Axis Travel | 16.54" (420 mm) |
| Work Table Size | 43.31" x 27.56" (1,100 x 700 mm) |
| Work Tank Size | 55.12" x 37.40" x 19.69" (1,400 x 950 x 500 mm) |
| Fluid Level (min ~ max) | 7.87" ~ 17.72" (200 ~ 450 mm) |
| Work Tank Capacity | 166.43 gallons (630 liters) |
| Distance From Floor to Table Top | 33.07" (840 mm) |
| Machine Dimensions | 81.10" x 122.05" x 114.17" (2,060 x 3,100 x 2,900 mm) |
| Maximum Workpiece Weight | 6,613.9 lbs (3,000 kg) |
| Maximum Electrode Weight | 220.5 lbs (100 kg) |
| Machine Weight | 18,077.9 lbs (8,200 kg) |
Options
Various Chuck Options (call for details)
Amp Booster
Shuttle ATC (Automatic Tool Changer)
30 Position ATC
C-Axis
R-Axis
6 or 12 Position Flush Box
SodickCare Premier 3 and 5 Year Extended Warranty
Sample
Material: SKD61
Depth: 28 mm
Surface Roughness: 16.4 μm Rz
Machining Time: 27 hours 50 min
Electrode Material: Graphite (EX70)
Note: 1 electrode only, electrode wear rate .03%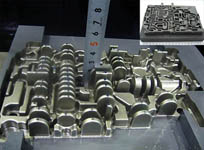 Detailed Product Description
The AG80L Sinker EDM features Sodick's Linear Motor Drives. Linear motor drives have been a perfect fit for CNC RAM EDMs (Electrical Discharge Machines). The linear motor's fast 1,400"/min axis feed combined with high 1.2G acceleration creates its own natural and even flushing condition. The positioning accuracy of Sodick's linear motors are guaranteed for 10 years on all Wire and Sinker EDMs.
The New LN2 Control
The New LN Series power supply unit incorporates all functions necessary for high-speed, high-precision and high-efficiency EDMing. It incorporates a CF card for data storage to enhance reliability and to save energy. The ease of operation has been further enhanced with the newly designed operation and control panel, which provides touch-screen operation and LAN function. The LN professional automatic programming system offers a wide variety of machining shape patterns that can be used in various kinds of machining.
The AG Series features energy-saving designs and technologies. Compared to conventional EDMs, the Sodick Sinker EDM Range can reduce average energy consumption by up to 60%.
TMM3
The AG Series EDMs feature the newly developed TMM3 electric discharge power supply unit. The TMM3 increases machining speed with cutting cemented carbide and other difficult to cut materials.